When it comes to choosing a hobby or work that gives you relief from your daily monotonous life, a lot of people prefer beach metal detecting.
Of all types of soils, the beach is undoubtedly the one where you are most likely to come across objects made of precious metals, especially silver and gold. It's also one of the most technical environments around, even for a seasonal prospector.
Unlike other hobby materials, a beach metal detector is quite expensive. Therefore, before spending all your money, you should know the prospects and aspects of all metal detectors, to choose the best metal detector for beach.
Beach Metal Detecting
Sand detection is above all a matter of observation. Waves and ocean currents carry objects away to areas where they tend to get stuck. The concentrations of pebbles and shells, fairly easy to distinguish with minimal effort, can put you on the right track.
We all know you can potentially unearth small treasures everywhere, but it is generally in the wet sand of swimming areas where you will unearth the most beautiful targets.
There are good times to discover precious objects on the beaches. In summer, for example, it is wise to focus on the end of the day. First of all, it does not bother the beach attendants, but above all, it gives the opportunity to increase your chances of finding things, especially on the back beach.
The most important thing for detecting metal is choosing the right and best detector.
Most devices are quite capable of detecting in dry sand. The problem is that if you use a classic detector on this type of surface, you are more likely to come across trash than a piece of jewelry lost by a vacationer.
Choosing the Best Metal Detector for Wet and Dry Sand
On wet sand, very heavily mineralized, but also loaded with great discoveries, conventional metal detectors will generally be of no use to you.
Hence the interest in equipping yourself with a specialized metal detector for the beach or at least compatible with wet sand, such as a pulsed, multi-frequency, or high-frequency induction detector.
Finally, do not forget to bring a sifting shovel, essential to recover objects in this type of soil.
Best Metal Detector for Beach Reviews
1- Minelab Equinox 800 Multi-IQ Underwater Waterproof Metal Detector & Pro-find 20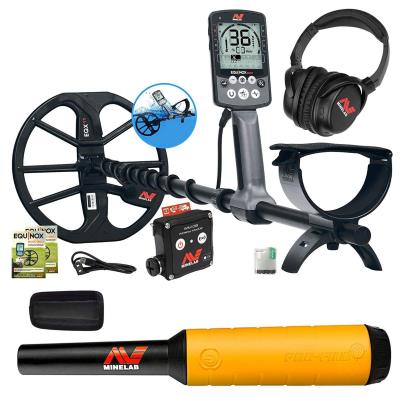 This metal detector is Minelab's one of the most important projects that have been introduced since 2012. This is a new addition to Their EQUINOX series metal finders. This metal detector has bought a revolutionary change as it Doesn't use or like the other Single frequency metal detectors.
This new product of the EQUINOX Series is specially made to ensure an enjoyable journey in search of genuine coin and other things. This is the best option for those expecting a high-class performance at a decent price. It's a perfect choice for professionals.
What you will like best about this metal detector is the ease of use and the simplicity of the displays they have. Immediately, just by looking at the screen, you can know what is going on with minimal configuration required. Honestly, this is what makes it so popular and is why I recommend their detectors to newcomers over any other brand.
The screen has all the normal things you would expect to find on a detector machine. It also has a series of clearly identified buttons to make your life easier when setting it up. Everything is clearly labeled and the buttons are large enough not to feel awkward, but not so large that they fill the feedback portion of the screen.
Equinox detectors have Multifrequency technology. Which makes it possible to radiate several frequencies simultaneously from 5kHz to 40kHz in the ground. This technology makes the Equinox metal detector whether in the field/forest or at the beach.
At the range, the Equinox will send multiple high frequencies simultaneously in order to achieve the best possible performance on small targets and gold in interior soil on polluted land, it will favor lower frequencies: no other detector allows this! Thanks to this technology, you will not miss a thing. Therefore the Equinox is the best metal detector for beach.
Features
Detection mode
Coin depth indicator
Battery monitor
Target identification
PROS
The detector is great and works perfectly
Very easy to use and handle.
Very soothing and fast recovery speed
Perfect weight for wielding
Clear and low latency wireless audio
Cheap price
Can work equally in all types of areas and soils.
CONS
The pinpointer is not so good.
2- Sunpow Professional Metal Detector For Adults, Adjustable Ground Balance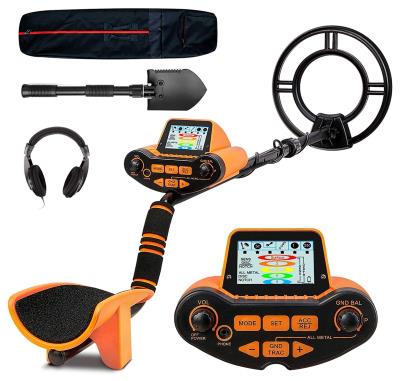 Sunpow Upgraded OT-MD02 Metal Detector uses an updated DSP chip, 10Inch IP68 waterproof curl, and a different kind of handle. This product consists of some highly exceptional and most thorough current metal indicators and the location detectivity is more profound than 20% available in the market.
The lifespan of this metal detector is long enough to make you tired. There's a mode called "Disc and Notch mode " which allows you to select which kind of metal you want it to detect. It has a GND function and by using it you can know the exact location of the metal.
This detector is made for metal detecting in any situation. It renders quite a great service on the beach. This detector can maintain comfortable movement while going in-depth of saltwater
Features
fully functional manual sensitivity control
Eight inches search coil.
Motion All Metal Mode.
Super pointy and effective headphone jack
1/4-Inch Headphone Jack.
Three different types of positioning
Preset and computerized ground balance
PROS
The length range of this metal detector is unimaginable. You can find metal 6-8 inches below the surface.
Weight is very low and changeable.
Price is very cheap according to Its service
Detects all kinds of metals such as gold, silver, brass, and iron,n, etc.
Discrimination control helps you to ignore undesirable things
Power control allows you to minimize or maximize the depth and length range.
Search coil renders a great service. You can even use it for finding metal in shallow water.
CONS
Provides lots of false alarms.
Sometimes can't detect the metal if the size is too small.
Though needs a special kind of battery still doesn't come with that.
3- Garrett At Max Metal Detector With Ms-3, Garrett Pro pointer At Z-lynk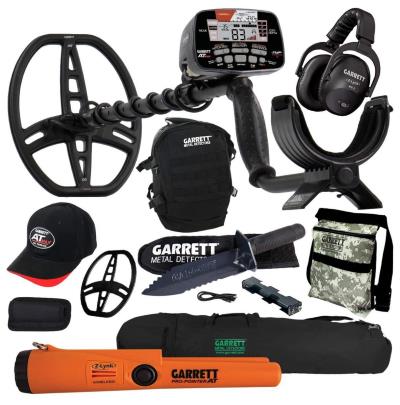 The Garrett AT Max is an upgraded version of all modern metal detectors. It comes with built-in wireless technology which allows the audio to transmit to your wireless headphones. It's more effective than other detector's headphone system. The usual interference from surrounding devices also doesn't hamper the sound system. 
Garrett at MAX Metal Detector Review:
Garrett MS-3 Z-Lynk Wireless Headphone KIT with Pro Pointer at Z-Lynk Pinpointer: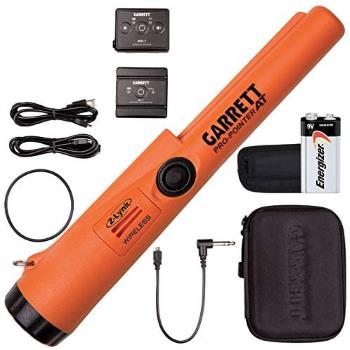 Garrett Pro Pointer AT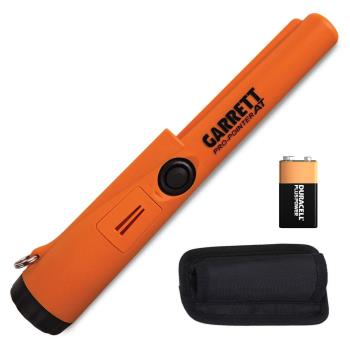 Water-resistant up to 10 feet
Orange color for greater visibility underwater
3 levels of sensitivity to improve the detection of gold nuggets and other tiny targets
Saves battery: Automatically shuts off after 60 minutes
Pro-punter alarm lost after 5 minutes without pressing a button, the pinpointer gives periodic warning sweeps.
The retune hotkey instantly tunes to the environment or reduces the detection area to accurately locate larger targets. The setting allows the user to quickly perform:
– The detection field is reduced to accurately locate large targets
– Tune out mineralized soil, wet beach sand, etc.
– Help measure and identify edges of large target
LED night vision:
The most exceptional part is the LED night vision (backlight vision) which helps you to develop your hunting progress by increasing the vision. This is suitable for the novice or enthusiastic treasure hunter looking to get started in metal detecting, but not ready to make a significant outlay to get started.
Fortunately, it's a great machine in its own right, and while it's aimed at people who are new to this hobby, it also has enough features to keep even seasoned treasure hunters more than satisfied. If you like hunting coins, having the depth indicator of this device will help you enormously. It has a coin depth indicator that goes down to 8 inches.
LCD Screen Display:
One of the most important features is the LCD screen display which allows you to see in the screen rich contents, such as sensitivity level, depth, and battery level, allowing you to get real-time data and a more precise exploration during the whole detection. Perfect for people treasure-hunting hobbies and develop children's love of nature.
This detector has a mode called "SALT ELIMINATION ". In this mode, the hunting becomes so easy on the beach and that's why it is so exceptional in the case of other detectors. The waterproof quality also gives you a great advantage.
PROS
Works as an upgrade form of most of the detectors in the market
Searchcoil's depth length is amazing and can detect every small detail.
The Garrett AT Max can handle other disturbing interference easily.
The backlit screen will allow you to hunt more easily at nights (kind of works as a night Vision) 
Works perfectly underwater.
The wireless setup makes your hunting easy.
CONS
Sometimes this metal detector can't separate the exact metal or sometimes makes you confused between iron and other unwanted things.
The learning curve is quite big so it won't be that much easy to Learn especially in the case of beginners
4- NATIONAL GEOGRAPHIC Series Metal Detector
This product has 3 option from beginner to advanced:
1- NATIONAL GEOGRAPHIC PRO Series Metal Detector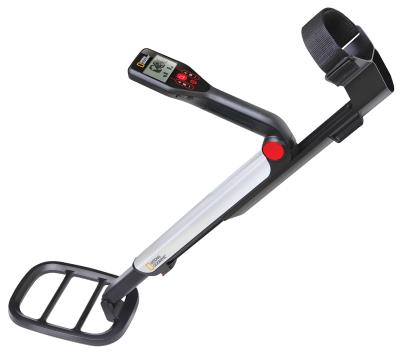 2- NATIONAL GEOGRAPHIC Junior Metal Detector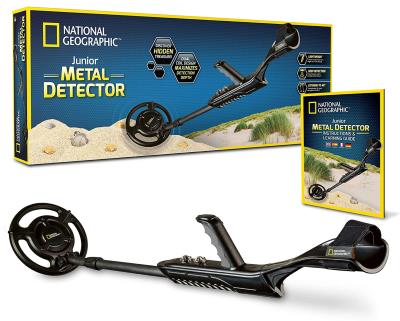 3- NATIONAL GEOGRAPHIC Junior Metal Detector for Kids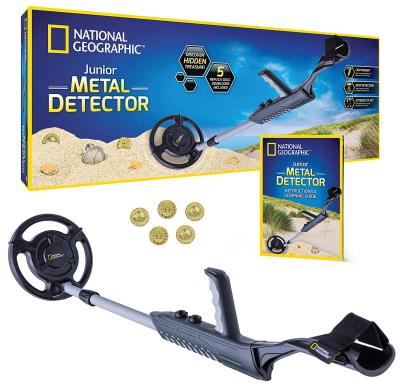 The perfect metal detector for becoming the so-called treasure hunter. This metal detector is super easy to set up and use. The use of modern features and technologies has made the search for you desirable things very possible. Like all other metal detectors it can be used anywhere – beach, park, etc
The perfect 7.5 inches coil is waterproof and can ensure detecting metals up to 7inches below the surface. This machine also allows you to set up your sensitivity control. Its weight is only 1.5 pounds so this low weight feature ensures your hunting Won't be hampered. After you are finished you can easily fold it up and keep it in a travel bag. It easily fits in there.
Most metal detectors of this shape have a telescopic handle for easy transport. There is a detector for beginners and seasoned treasure seekers. The whole family can enjoy this hobby, there are light models for children. Some models can choose which metals to search for using "discrimination", a metal selector button.
If you live by the sea, it is necessary to choose a metal detector capable of probing the sand in-depth, despite its composition rich in minerals, as well as in wet sand. The same model can be used in the mountains, to find metals through a certain thickness of snow.
The fact that makes this detector highly exceptional is there are 3 types. One for kids. One for professionals and one for starters.
The most fascinating among these is the kid's one. It comes with 5 gold doubloons that you can hide and then allow your kids to find it using the metal detector. There is a colorful learning guide that helps your kid to improve their creativity. By these doubloons, your kids can also learn geographical history. The story of Golden Doubloons.
This metal detector is not waterproof so clearly, you cannot use this easily in saltwater. However, the coil is waterproof so a little bit of hunting may be possible. But as it has a single frequency, it won't do much good at the beach or near saltwater.
PROS
Professional
Larger coil than most of the metal detectors.
3 types of detection mode. Can easily separate trash and other unwanted things
Ultra-lightweight and easy to work and grip
you can fold it to 22′. So it can travel anywhere with YOU
PROS
Kids
Ultra-lightweight so that the kids Don't feel any burden to use it
Waterproof duel Coil
There's a telescopic arm that that that that hat that helps to adjust the lengths which ensure your kids can use the grip easily.
CONS
Kids
Some people who ordered the kids one complained that it doesn't work that well if you compare it with the professional one. Most of them showed that the system is quite easy for kids but failed in actual work – metal detecting.
5- OMMO Metal Detector for Adults & Kids, High Accuracy Adjustable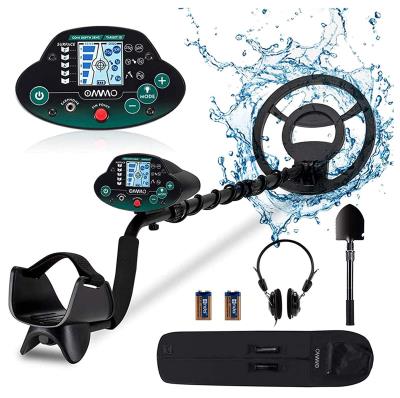 This waterproof metal detector is an evolution of one of the most popular leisure detection devices in America and around the world.t already has the essential assets to discover the hobby of detection. Indeed, it is a low-cost metal detector, very easy to use, with many options (in particular the pinpoint and the customization of the detection mode) efficient in terms of detection depth.
The pinpoint is to locate the target precisely on an area and thus know where to dig to unearth it. This metal detector is thus a great metal detector to start the leisure detection at a low price, with the settings and options of a high-end metal detector.
It also has visual discrimination via its large LCD screen and NOTCH and audio discrimination via its multifocality. The metal detector will sound high for the most conductive targets, medium for targets with medium conductivity, and low for ferrous targets.
PROS
Three different types of mode (operations) as – In one mode It will alert you whenever it finds a metal. In another mode (disc) will help you to separate unwanted metals in searching for your specific metal.
The pinpoint feature is very useful here. It allows you to make different positioning strengths according to the environment at that time.
Like most metal detectors, the search coil is really good. In the case of small coins, it can be up tup too 8 inches below the surface. If you are finding big metal things, it
will only help you to find under 3 feet.
The LCD plays a significant role as you can see the metal's exact location, battery life. It helps you to see and adjust the sensitivity level and mode selection.
The structure is perfect for all types of age and the arm soft spares your strength and stamina. Meaning that you necessarily don't have to all the efforts there.
The obvious factor – lightweight helps you to ensure safe and nonstress hunting.
CONS
Doesn't work quite well on the mineralized surface.
6- PalliPartners Metal Detector
1- PalliPartners Professional Metal Detectors for Adults & Kids with LCD Display&LED Light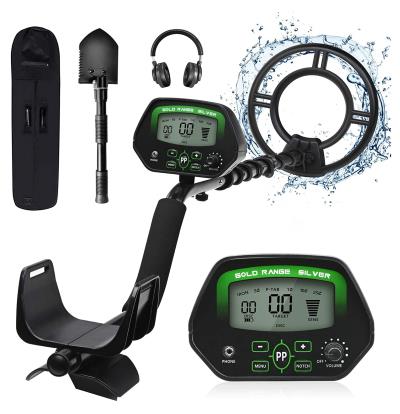 2- PalliPartners Adults Waterproof Metal Detectors with LCD Display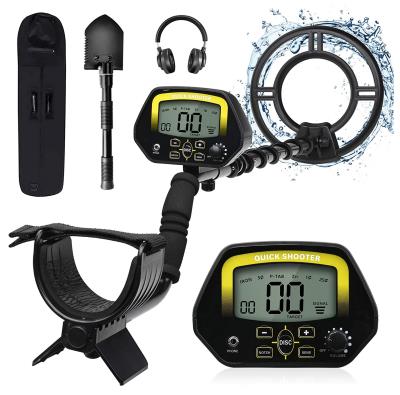 3- PalliPartners Kid Metal Detector Junior 6.3 Inch Waterproof Search Coil Audio LCD Detection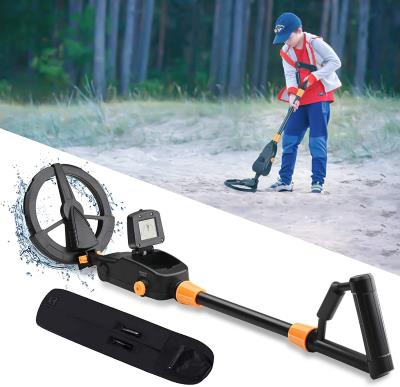 This Metal Detector for Adults and Children is a very powerful device. It is easy to use with its large LCD screen with a backlight which allows searches to be carried out at night. Also, the coil is waterproof and works in water. Detection sensitivity and depth can be adjusted.
This Professional Metal Detector allows you to obtain very precise results. It uses the pinpoint technique, which is very useful for detecting small objects. The coil is waterproof and can be used in water. The length of the rod is adjustable and it is possible to detect objects buried up to 18 cm in the ground.
PROS
Size: PROFESSIONAL
24.5 CM super accurate search coil
Built-in the shovel and you can fold it also
In all-metal mode, you can adjust ground metal balance manually so the defector can work in every environment perfectly
The IP68 search coil works just perfectly and the 10 inches metal detector makes the combination incomparable.
A waterproof search coil enables you to continue your hunting even underwater.
By using three search mode, you can decide when you want to get alarmed by all kind of metal and when you want to get notified of a certain type of metal
PROS
Size: Adults
Armrest design saves your energy and effort.
Big flat LCD Display shows you all the prospects and aspects of the detector while hunting
Waterproof search coil is amazing
Notch mode helps you to remove or clean the unwanted element easily.
PROS
Size: KIDS
Can detect all types of metals despite Their price
You can also use this to give education to your kids about some incident
Audio alert and The LCD works perfectly. An just like the other two detectors, the coil is waterproof.
This metal detector is made from harmless materials so that the kids Won't face any unwanted situations.
FAQs:
What Is The Best All-around Metal Detector?
The Minelab Equinox 800 Multi-IQ is a very good detector for the money you are spending. It has several great features that you would expect to find in a detector in this price range. It is also very simple to use, is lightweight, and performs better than many other much higher-priced detectors. u003cbr/u003eu003cbr/u003eI consider this to be the best beginner metal detector as there is a good chance it is the only detector you need. If you decide you like the hobby and want to go pro, then there are plenty of other great metal detectors you can improve, all with a very similar look and feel, although higher-end detectors will give you much more audio response 
Can I Use My Metal Detector On The Beach?
Yes, you can use your metal detector in the dry sand beach with no issue. Though wet sand is different, being known as conductive. Non-Motion detectors are used successfully on wet sand without any problem. u003cbr/u003eu003cbr/u003eMotion detectors are inappropriate except for a specific few that are manufactured to deal with this effect. Please ask us about suitable models if you want to detect with a motion detector on the wet sand.
Can I Metal Detect In The New Forest?
No, the use of metal detectors in the New Forest is, of course illegal. But, a lot of harm was done before the bylaw was introduced and occasional raids are still happening. At one time a local dealer was openly selling antiquities robbed from the Forest.
What Metals Cannot Be Detected By A Metal Detector?
Gold, silver, iron, copper, brass, aluminum, tin, lead, bronze, etc. metals can be easily detected by a metal detector. u003cbr/u003eu003cbr/u003eOn the opposite hand, the metals that aren't highly electric conductive are considered non-metal or non-detectable objects. Gemstones, bone, diamonds, pearls, and paper cannot be detected by metal detectors.u003cbr/u003eu003cbr/u003eMetal detectors work based on electromagnetism. This means that they emit time-varying electromagnetic fields and listen for waves coming from the conductive items. The most difficult metal to detect is stainless steel. u003cbr/u003eu003cbr/u003eThe reason why the instrument cannot locate is that it has poor electrical conductivity. Stainless steel, by definition, has low magnetic permeability, which means that it does not produce a signal strong enough to be identified.
Is It Illegal To Use A Metal Detector On Florida Beaches?
In Florida, the use of a metal detector usually doesn't require a permit. You are free to use one on public beaches without concern. Invasive on belongings, of course, remain illegal. Any objects discovered within the sand of a public beach comprise the "finders keepers" law. u003cbr/u003eu003cbr/u003eThis means you won't need to share the treasure with the state or additional members of the public as long as you discover and detect or extract it yourself. However, the same law does not apply to things found in the ocean. Any object that has stayed beneath Florida waters for 50 years or more is considered as the property of the state.
Can You Use A Metal Detector On Beaches In Australia?
Australia is probably the perfect country for metal detecting hobbyists who are searching for some tremendously valuable finds!u003cbr/u003eu003cbr/u003eThis doesn't mean that you can skip the legal facet concerning this hobby. In other words, it is vital to know and understand some rules regulating this activity in the country. Thus, you will enjoy this activity while not having any hassle with authorities.u003cbr/u003eu003cbr/u003eHowever, most states in Australia need you to own a metal detect permission like- Fossicking License or a Miner's Right. You cannot explore any national parks there unless they're covered under your fossicking license. All these rules and regulations are governed by the Department of Natural Resources and Mines. u003cbr/u003eu003cbr/u003eYou need to apply at this department if you want to get the license that allows you to legally use your metal detector machine. Fortunately, you can easily get it done in most cases.u003cbr/u003e
Do I Need Insurance For Metal Detecting?
Metal detecting insurance is a must, before you being on your exciting journey into the depths of the detection world.u003cbr/u003eu003cbr/u003eMetal detecting insurance is a must-have to anyone serious and passionate about their hobby. Not only will it cover you financially against any mishaps but also it looks professional.u003cbr/u003eu003cbr/u003eWhen attempting to gain metal detection permissions with landowners, there's no higher peace of mind than showing them you're serious and you are lined by insurance. Who knows it could quite presumably be the difference between a yes or a no answer to gaining land.
Conclusion:
There are tons of metal detectors in the market. But treasure hunting on the beach requires a good quality metal detector. Otherwise, it will give you false signals. As much as you like to save money, you should always go for the good ones.
We have talked about a few of them. And among all of them, Minelab Equinox 800 Multi-IQ is the one we think you should go for. Not only it is the best metal detector for beach but you can use it in any other places with no problem at all.