When a comfortable journey matters more than speed, there is nothing that can compete with beach cruiser bikes. Riding a cruiser bike on beaches or along the seashore will make you feel relaxed.
However, when it comes to choosing the beach cruiser bikes, the process can be overwhelming.
Considering the different types of models out there and the purpose of beach cruiser bikes, choosing the right one is quite difficult. Maybe you are figuring out to get a joyful ride or want to go on slopes of the mountain; the reason could be any, we've selected some of the best beach cruisers bike for you.
This article will review some of the best cruiser bikes and a complete guide on these bikes. This will make your selection process easier. Before you jump on reviews, read a bit more about beach cruiser bicycles.
What Is a Beach Cruiser Bike?
Cruiser Bikes are special single-speed bicycles that are specially built for cruising at low speed. These bikes are loaded with features that make them easily rideable and comfortable. One such great thing about these cruiser bikes is they are customizable according to the features such as front, luggage racks, bike lights, rear fenders, and many more.
Moreover, these bikes also have balloon tires, oversized saddles, coaster brakes, and more. Modern-day beach cruiser bikes are next level bikes with more gears, cleaner belt drives, bigger wheels, mounts, internal gears and much more. It can be very pleasant to have for early morning bike rides.
Best Beach Cruiser Bikes Brands
Are you looking for the best beach cruiser bike for you? Then have a look at these cruiser bicycle brands and choose the one for you. The beach cruiser bikes that we've curated surpassed all the parameters; we have read reviews.
We have selected here some of the best cruiser models for men, women, and kids. So, let's take a deep dive and find which one is perfect for you.
Best Men's Beach Cruiser
1- Schwinn Sanctuary 7 Cruiser Bike for Men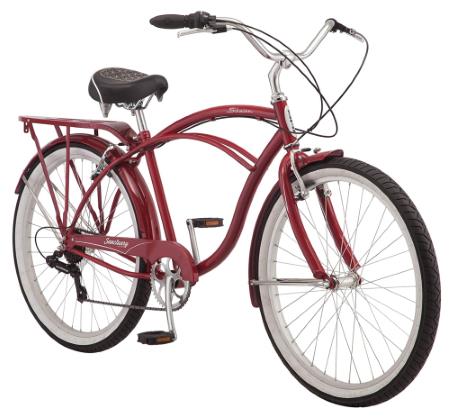 Schwinn Sanctuary 7 Cruiser Bike is especially for men to take a ride through on the beachside. It features with steel-framed for extra stability and comfortable ride. Its full fender design helps to keep the dirt and mud away from you while riding over the bike.
It has seven-speed rear derailleur SRAM twist shifters, which provide you enjoyable performance that you need the most. Above this, the bike's wheel has aluminum alloy rims that are extremely lightweight but strong enough to handle the weight.
The size of the wheel is 26 inches which makes it ideal for all types of men. Its padded cruiser saddle comes with springs which allow you to have complete comfort. The best thing about these cruiser bikes is they are ready to assemble and come with a lifetime warranty.
This rear cargo rack boasts everything you need to carry with you for a comfortable ride. Its linear-pull brakes style allows you to have complete control over the bike. Above this, Schwinn Sanctuary Cruiser Bike is perfect for men with heights 5.2 to 6.0 inches.
Pros
SRAM twist shifters for excellent comfort
26 inches allow suspension wheels
Linear pull brakes styles
Lightweight and durable
Cons
2- Sixthreezero Around the Block Men's Cruiser Bike with Rear Rack (24-Inch and 26-Inch)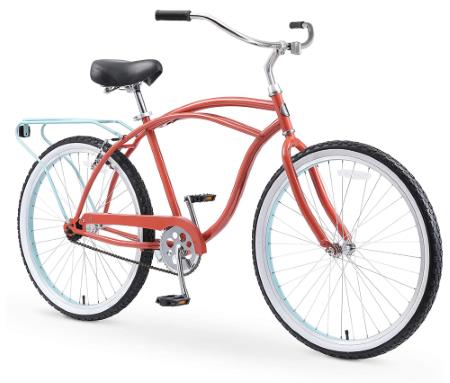 Sixthreezero block is one of the best Men's cruiser bikes. This classic curvy bike comes with a 19-inches durable steel frame, which is excellent for casual and comfortable riding. Though its design is relatively simpler, it would be worth having for comfort and a pleasant ride.
Its upright riding design helps to keep your back straight and shoulders comfortable during the ride. Aside from this, it features a dual-spring saddle for greater suspension and has a wide cruiser handlebar with soft cushiony foam grips.
This is a single-speed bike excellent for cruising purposes on flat terrain. Besides that, it also features pedal backward coaster brakes for effortlessly stopping the bike. Meanwhile, its 2.12 inches wider aluminum wheels with 26 inches height have large waffle tread tires helpful to have cushioned rides.
Moreover, you will have a rear rack for additional baskets. The size of the wheel is 26 inches which makes it perfect for men, even having a height above 6.2 inches. With greater suspensions, comfortable ride, and wider handlebar, Sixthreezero around the block cruiser bike is excellent in everything.
Pros
Aluminum wheels and handlebar
Single-speed bikes
Excellent suspension
Durable steel frame
Cons
3- SOHOO 48V500W12Ah 26″ Adult Step-Thru Beach Cruiser Electric Bicycle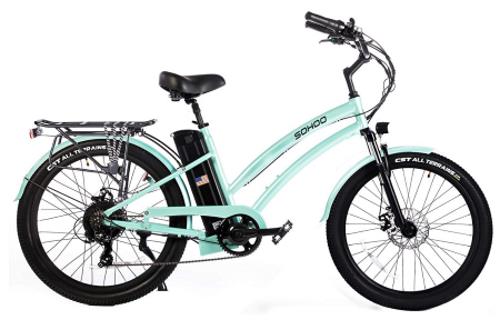 SOHOO is the best beach cruiser electric bicycle which is specially designed for cruising purposes. This electric cruiser bike makes every ride a breeze. No matter whether you want to cruise for a short distance to a beach or want to go for a long ride, this bike allows you to enjoy the ride to the maximum.
Like others, this cruiser bike also has an aluminum alloy frame with seat post-shock. This will enhance the comfort of the user while riding on it. Besides that, it features a shock front fork suspension that absorbs shock. Also, its detachable rack helps to carry everything that you need.
Moreover, its features with an excellent capacity removable anti-theft lithium battery that provides you a stable ride without charging urges. Apart from this, it has a pedal assist level, temperature gauge, voltage and trip distance meter that makes your ride comfortable and provides excellent performance.
SOHOO cruising bike comes with four different working modes, which separate from the regular style cruising bikes. It comes with a Shimano 7S drivetrain safety feature that ensures you have smooth shifting and accurate riding.
Pros
Large capacity battery life
Alloy aluminum frame
Aluminum high-end clip saddle
Break power shutdown
Cons
A bit expensive than regular cruising bikes
Best Women's Beach Cruiser Bikes
Beach cruiser bikes for women have unique designs and impressive features that make the ride comfortable and relaxing. Let's take a deep dive and find the best women's beach cruiser bikes for you.
1- Firmstrong Urban Lady Single Speed – Women's 26″ Beach Cruiser Bike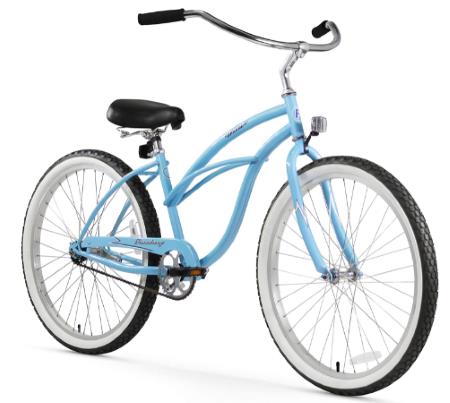 If you are looking for a perfect cruising bike for women, then Firmstrong Urban Lade single-speed bike would be worthy of having. This 26-inches bike comes with greater wheel suspension to make the ride easy and relaxing. Its classic curvy bike design comes with a 15 inches durable steel frame, which is strong enough.
Aluminum wheels are rust-free and lightweight so that you can have excellent performance. Meanwhile, it also has white-wall balloon tires and easy-to-use coaster brakes that make the ride more comfortable and easier. This cruiser bike has a dual spring and oversized seat with wide handlebars and rubber grips for additional comfort.
Although the bike's frame is made from lightweight aluminum, it is still stronger to carry a maximum weight of around 300 pounds. Along with this, the height of the bike is ideal for women of all heights, especially 6 feet height.
This bike is excellent for women who want to cruise; from design to brakes and comfortable oversize seats. Also, this bike comes with a handlebar having rubber grips that allow you to handle the bike more firmly.
Pros
Oversized cushioned seat
Handle weight even up to 300 pounds
Rubber gripping handlebar
Easy to use coaster brakes
Cons
It doesn't have a back rack
2- Huffy 26″ Cranbrook Women's Cruiser Bike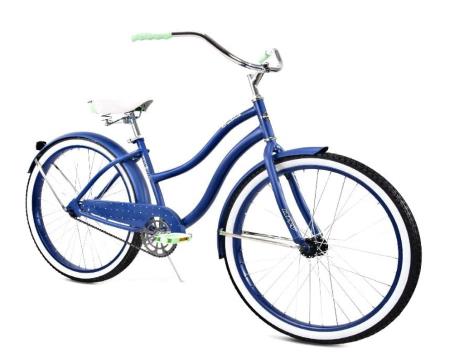 Huffy Cranbrook is an exclusive fit frame cruiser bike that allows you to ride in the upright position and keep your shoulders in a natural position while riding on it. This excellent cruiser bike features an easy-to-use coaster linear bike, ensuring you have complete control over the bike.
The cruiser bike has a handlebar with high-density grips, which allow you to grip the handle firmly. Moreover, the swept-back position also enables you to have a straight posture when you are riding on it. The seat of the bike cruiser is padded and has a lower center of gravity for having a comfortable ride.
Its raised handlebar is uniquely designed for women to have a more comfortable ride. Its pedaling seat helps to eliminate muscle fatigue and make your ride more comfortable. The height of the tyres is 26 inches which makes it excellent for keeping your leg straight while pedaling.
It's a single-speed simple cruiser bike but has a stylish design which adds another reason to buy it. From perfect fit frame to highly durable suspension wheels, this bike has everything that you need for a cozy ride.
Pros
Dual-density grips handlebar
Lower center of gravity padded saddles
Easy to use coaster brakes
26 inches wheels
Cons
Tiers get flattered too often
3- Sixthreezero Hybrid-Bicycles Women's Step -Through Hybrid Cruiser Bicycle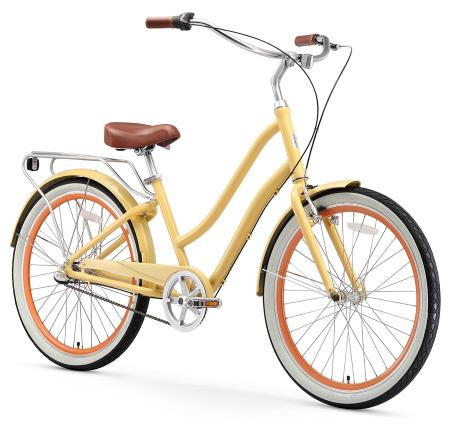 Sixthreezero is a versatile women's cruiser bike that comes with a 17.5 inches swooping step aluminum frame. This cruiser bike is perfect for cruising, commute rides and leisure purposes. Its upright riding style helps keep your back and shoulder straight for a comfortable ride.
Its foot-forward design helps maintain the ideal position and allows you to have proper leg extension. It's a single-speed bike that is excellent for flat terrain. Also, the rear rack is for the panniers and optional baskets. The 1.95-inches wide white-wall semi-slick tyres provide a better stable ride and cushioned suspensions for easy rolling.
Its curvy frame and stylish design provide optimum comfort. It also features a comfy dual-spring saddle and a rear coaster brake for stopping the bike easily. Its matching fenders further enhance the worthiness of these cruiser bikes. The aluminum frame is lightweight and strong enough to handle the optimum weight.
The wheel size of the cruiser bike is 26 inches and comes with dual suspensions, which make it perfect for women. It has a low swooping frame, which is easily mounting and dismounting. Also, the rear racks allow you to keep your accessories and protect you from rains and debris.
Pros
Stylish design and semi-slick tires
26 inches tyres with dual suspension
Up-right riding styles
Swooping step aluminum frame
Cons
Only three colors available
Best Kids Beach Cruiser Bikes
There are certain kids' beach cruiser bikes available which you can choose for kids too. Here, we've selected some best models of the kids' beach cruiser.
1- Firmstrong Boys 20″ Beach Cruiser Bicycle Urban Boy Single Speed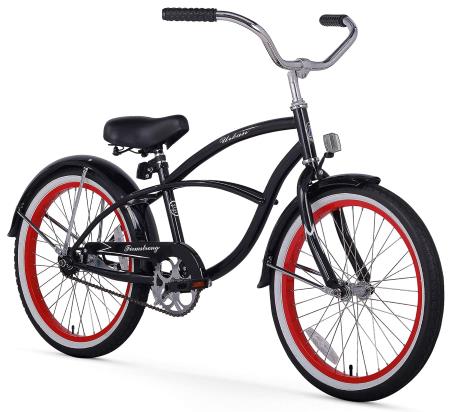 The Firmstrong boys cruiser bicycle is a classical design cruising bike for kids and young beach bikers. This urban beach cruiser bike comes with a training wheel, so you can install it to train your kids. Like an adult beach cruising bike, the urban kid's beach bike is a single-speed bike that comes with a coaster brake.
There is no complicated gear system, so kids can easily use this bike at a single speed. This bike rolls smoothly and has an excellent brake suspension, which is excellent for the kids. Its cushiony cruiser bicycle saddles seat makes the ride more comfortable and enjoyable for the kids.
Moreover, the greater suspension tyre can absorb the shock from the ground and make it comfortable for the kids. It has white-wall balloon tyres and front and rear fenders to make the ride cozier for young boys. Firmstrong boy's cruiser bike has 13 inches aluminum frame, which is excellent for kids with height 3 to 4 inches and even taller.
For additional comfort, it has dual spring oversized seats that make the ride further comfortable.
Pros
Consistent cruising speed
20 inches ideal height for kids
Oversized seats for maximum comfort
Highly affordable
Cons
2- Firmstrong Urban Girl 20″ Beach Cruiser Bicycle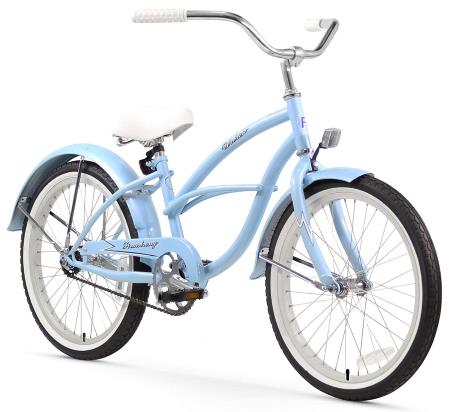 This is another kids' cruiser bike by Firmstrong. It has 13 inches unique steel frame and 20 inches aluminum wheels which make it perfect for girls. Besides that, it has a pedal backward coaster brake that allows you to have smooth braking and ensure easy pedaling.
Moreover, it features a dual spring oversized cushioned seat for additional comfort. No cable brakes are hanging from the side and especially designed for the safety of the kids. The front and rear fenders come with a cruiser bend-style handlebar.
This cruiser bike weighs only 23lbs and comes fully assembled, so you don't need to worry about assembling, which is quite troublesome. Girls with even 4.4 inches height can easily ride on the kid's cruiser bike. Apart from this, it has wide wall tyres that provide extra cushioned for easy rolling.
The best thing is that it comes with easily removable training wheels. So, you can attach them to kids' cruiser bikes and let your kid enjoy a comfortable ride. The design of the bike is simple and appealing enough to attract the kids.
Pros
Training wheels for training kids
Lightweight and assembled design
Dual spring and oversized cushioned seat
13 inches steel frame strong and sturdier
Cons
Not for kids with height above 4.4 inches
3- Huffy Cruiser Bikes 20 inch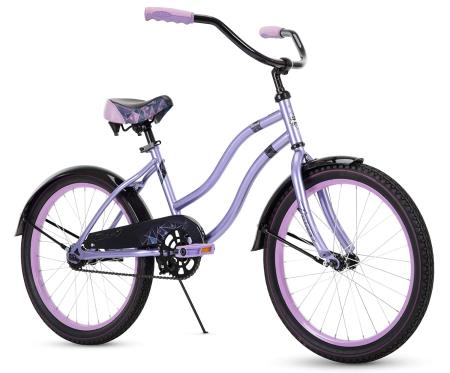 Huffy cruiser bikes are designed for kids aged five to nine years. Although the huffy cruiser bikes need to assemble, it comes with an assembling kit which makes it easier to assemble within minutes. Like other adult Huffy cruiser bikes, this kids' cruiser bike also comes with a single speed gear option and a classic cruiser steel frame. It is sturdier and durable enough to handle the weight of the kids.
It has a padded seat for ideal comfort, and the seat of the bike is stitched with lavender piping to give it a perfect look. Huffy cruiser bikes come with adjustable handlebars so that you can adjust the height of the handle as your desire for your kids.
For additional comfort, it has dual springs and a great suspension wheel that absorbs shock from the ground and makes your ride more comfortable. It features splash-resistant fender designs that prevent the bike from damage. Also, the rear coaster brakes ensure to have complete control of the bike. All you need to do is just backpedal, and the bike will stop easily.
Pros
Comfortable seat with dual spring
Rear coaster brakes for optimum control
Steel frame
Adjustable handlebars
Cons
No rack and basket to keep accessories
Beach Cruiser Accessories to Add in Beach Cruiser Bike
Today, beach cruiser bikes are much more than ordinary bikes. Therefore, you need to have some accessories for your cruiser bike for additional support and a comfortable ride. Below, we'll sum up some of the best beach cruiser accessories that you must need to buy.
Beach Bike Rack
Whether you are using the beach cruising bike for cruising only or for other use, do not forget to have the beach bike rack for your bike. It not only helps to keep your bags securely but also provides you additional space to carry anyone on them and give them a ride. There are two types of racks available, front and rear; you can either choose one or both based on your needs.
Baskets
Baskets are the second most essential beach cruiser bike accessories that everyone loves to buy. The individual can attach this basket to the front side of the cruiser bike. However, these beach cruiser bike baskets don't compare with pannier and racks because these baskets are designed to carry only lightweight things. Baskets are made from different materials like metal and aluminum to choose from based on your preference.
Bike Lighting
Kids love to have lighting tyres and rims on their beach cruiser kids' bike. Even some adults also love to add lighting. LED lights are affordable and have long, extended battery life. Halogen lights are also good for bike lighting because they are rechargeable. You can add some light even at the front of the handlebar, basket and others.
Helmets and Knee Pads
Helmet and knee pads are essential accessories that provide you safety and keep you protected from injuries. Therefore, make sure to buy these accessories. Moreover, the helmets are designed uniquely for both men and women. These helmets come in different styles and designs so that you can choose according to your will.
Bike Cover
Many people like to keep their bike in the garage after use to save from bad weather. Keeping bikes for long can make them dusky, so it's better to wrap the beach cruiser bikes with cover. This not only helps to protect your beach cruiser bike from dust and debris, yet adds a life span to the bike.
Bike Horns
Bike horns are also great accessories for beach cruiser bikes. Kids especially like to add some horns to their kids' bikes. These also came in different designs, sizes and types. You can even attach them to the front of the handlebar. Small size horns would be great for your cruiser bikes. Even a tiny bell on the kid's cruiser bike looks great.
Beach Cruiser Vs Mountain Bike Vs Hybrid Bike Vs Comfort Bike
Beach Cruiser Vs. Mountain Bike
A beach cruiser bike is a simple and traditional style bike with a single speed. These kinds of bikes are quite comfortable to use on the ground and require minimal maintenance. The single-speed beach cruiser bike is ideal for beginners and advanced cruisers.
The frame of the bikes is designed for extra durability and a comfortable ride. Also, the seat and handlebar position of the bikes are in an upright position to have complete comfort while riding without causing strain on the back. Moreover, these beach cruiser bikes have wide tires and double padded seats for maximum comfort and a joyful ride.
But on the flip side, the mountain bikes are slightly different in designs and features. It gives you more enjoyable upright position as compared to the beach cruiser bikes. Moreover, these bikes provide better control and improved speed. But the mountain bikes are complex and have improved features as compared to the beach cruiser bikes.
Mountain bikes have multiple gears, which make them excellent for use on hilly terrain. Above this, these bikes are more durable and have little knobby tyres. Also, the durable rims make it suitable to use even on off-road, streets and parks.
Beach Cruiser Vs. Hybrid Bike
Beach cruiser bikes and hybrid bikes are both used for cruising purposes. But the beach cruiser bike is a single-speed bike that has no gears and single run-on speed. Simultaneously, hybrid bikes have multiple gear options, which provide multiple speed options for better comfort and a joyful ride.
Both of these cruiser bikes and hybrid beach bikes are designed for recreational use and comfortable ride. However, the hybrid bikes are fairly new models and have better features than the regular-style beach cruiser bikes.
Moreover, both the bikes have their pros and cons in terms of features and functionality. A hybrid beach cruiser bike can be customized and has multiple functions. But you do not have any customized features in the beach cruiser bikes.
Keep in mind that beach cruiser bikes are best on paved, flat, and dry terrains. But the hybrid bikes are exceptionally useful for multi-purposes. If you want a more functional and compatible bike, the hybrid beach cruiser bikes would be worth having for cruising and other uses. Moreover, the style and functionality of the hybrid beach cruiser bike is much more advanced than the regular beach cruiser bike.
Beach Cruiser Vs. Comfort Bike
There are certain differences between a beach cruiser and comfort bikes. The beach cruiser bikes are single-speed bikes and are much more durable than other kinds of bikes. These bikes are much more comfort-oriented and have an upright-style beach bike design, which is quite easy on the body.
The beach cruiser bike is featured with dual padded seats so that you can ensure to have complete comfort while riding on it. However, the beach cruiser bikes are made for single-speed traction and built to use on terrain and beach purposes.
But the comfort bikes are the descendent of hybrid bikes in terms of functionality and design. Comfort bikes are designed for better comfort and premium style. These offshoot bikes allow you to use them even in the city street.
Likewise hybrid bikes, these comfort bikes are also designed with multiple features like upright handlebars, padded seats, brake suspension and seats that are slightly in the lower position. The design of the comfort bikes is made especially for the flat feet individuals so that they can also enjoy the ride with the least hassles.
Comfort bikes are designed by considering the modern needs to use these beach cruising bikes anywhere.
How to Fix a Bike Chain on a Beach Cruiser?
Some of you know that the beach cruiser bike chains fell off while riding. This is the most annoying thing which we all face. Some people constantly juggle with bike chain fixing. So, here are some tips that help to fix the chain of the bike quickly.
First of all, you need to dismount your cruiser bike, and then you need to flip it off downward. In this position, you will be able to fix the chain easily.
Now, you need to attach the rear cog with a chain. For this, do ensure to line up the chain near the axle and then pull it tightly.
Next, you need to loop up the chain around the front gear and place the chain link over the top teeth of the front gear.
Once you have done this, start pedaling slowly in the forward direction with the help of your hands. You can even use your fingers for this. When the chain starts aligning correctly to the gears, start pedaling more. In this way, the chain will be aligning over the gear correctly.
How to Make A Beach Cruiser Faster?
To enhance the joy of cruising, it is essential to make the beach cruiser faster. So, here are some easy tips that help to make your bike faster than before.
Inflate the Tire Tube: The pressure of the tube is ranging between 30-40 PSI. Moreover, the additional pressure of your body weight frequently drops the speed of the bike. Hence, if you reduce the pressure by inflating the tub, you might be able to enhance the bike's performance.
Use Multi-Speed Beach Bikes: For better performance, you can even use a multi-speed beach cruiser bike. It constitutes multiple gears that allow you to increase the speed of the bike.
Electric Beach Cruiser: Buying an electric beach cruiser is also a great option. The electric bike allows you to pedal faster and even allows you to achieve better speed.
Seat Adjustment: Yes, seat adjustment would be great for enhancing the speed of the bike. A seat at the height will help to pedal the bike faster and naturally, which increases the cruiser's speed.
Beach cruiser Wheels Lubrications: It is essential to lubricate the wheels, chain guard, and brakes for a smoother ride. This will help to improve the speed. Along with this, also make sure that your beach cruiser tire has enough air.
How to Clean a Beach Cruiser?
Always aim to add shelf lives to the beach cruiser bike instead of keeping it aside. Therefore, cleaning is essential to enhance the life of the beach cruiser. Here are some essential tips to keep your beach cruiser clean.
Remove Dirt and Debris
Sometimes dirt and debris remain inside the wheels and rims, which is quite difficult to clean. Hence, you can clean with the help of soap, water and a sponge to clean the dirt and debris. Removing dirt and debris from the frame is also helpful in maintaining the shine.
Lubricate the Chains
Apart from cleaning, it is also essential to maintain the chain frictionlessly. This not only helps to increase the speed; it maintains the chain guard properly. Therefore, make sure to keep the bicycle lubricated and apply oil on the brakes and brakes cable timely. This, in turn, helps to achieve a smooth and peaceful ride.
Frame Cleaning
If you do not habitually wash your beach cruiser bikes, then clean your bike frame with a damp cloth. This will also help to remove the dirt and debris. Moreover, you can even wash it timely with mild shampoo or soap water.
Conclusion:
A classic beach cruiser bike is essential for cruising on the beaches and mountain trails. Here we have summed up some of the best beach cruiser bikes for men, women, and kids you can buy. In addition to this, here is a complete guide on the beach cruiser bike, which helps to buy the best, and helps to maintain the bike quickly. There are some accessories which you can buy for a more enjoyable ride.