What you choose the beach or mountains? A closure look at the higher altitude nature or the high sound of oceanic waves?
There is always a long debate while choosing the ideal location for the holidays.
This debate has raged so far. It becomes difficult to choose a holiday place between the mountains and beaches. But, how about witnessing both in one place? Isn't it amazing? Well, both of these locations are equally appealing and fascinating on their own.
Yet, deciding between either of these is quite difficult. So, let's scroll a bit down and check a few things that help to decide where to go during this vacation.
A Quick Comparison between the Beach vs Mountains
Here, we will explain some qualities of the beach and mountains. Take a glance at the given table, so you can decide quickly whether the beach or mountain is perfect for you.
| | |
| --- | --- |
| Mountain | Beach |
| Sunnier and Shadier both | Mostly sunnier |
| Cool | Warmer during afternoon time |
| Rocky surface | Sandy |
| Secluded but crowded according to season | Mostly crowded |
| Lodging options are limited | A lot of lodging options |
| Dry air and fresh air | Mostly humid air |
| Ear soothing wind sounds | The ear scratching sound of ocean waves |
| Ideal for photography, hiking, and mountain biking | Windsurfing, sunning, parasailing, swimming, and boating |
| Get to see the wild animals | Wild parties and crowd may disturb |
| Snow-covered mountain | Warmer sand beaches |
| Extra warmers clothed may be required | Bathing or swimming suits may be required |
Beach vs Mountains
With this quick comparison table" Beach vs Mountains ", you're able to decide where to go during these holidays. But some persons remain confused because both the places seem too ideal for them to spend the vacation. Hence, to sort out this debate, let's move down further to the post.
Key Parameters That Help to Choose Between Beach or Mountains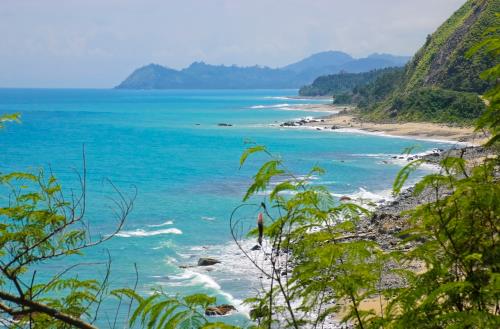 Do you love to interact with nature or prefer to have crowded beaches? Let's classify yourself in the below-mentioned categories to make a quick decision between beach or mountain.
Introvert or Extrovert
Some people are extroverts and love to interact with others on crowded beaches. But on the same spot, some introverts love to meet with their own and the silence of nature, which they get on mountains. If you are an extrovert, you would love to go on beaches, but if you are an introvert, you might want to go to the mountain.
Nature Enthusiast or Full of Energy
The energetic person likes to visit places that improve their energy level. However, nature enthusiasts love to travel in nature. They believe in spending a few moments with nature. So, they may prefer to go over the mountains.
The people who are full of energy and vibrancy can go to enjoy the upbeat beach life.
Sociological or Self-Grounded
Today, persons like to enjoy the virtual world, and they are much like social butterflies. They like to click a lot of selfies and share them on their social media platforms. Moreover, they are glued to their social media platforms via their phones. Hence, they mostly prefer to have vibrant places such as beaches.
In contrast to this, some people are very self-grounded. They do not even hesitate to ditch their social media platform so that they can remain close to nature. If you belong to a group of self-grounded persons, then you will love to go to the mountains during vacation.
Romantic or Materialistic
It is quite rare to search for persons with romantic capabilities on the beaches. More likely to say that beach persons are quite materialistic. They prefer to have beach surroundings to indulge in the luxury times. But on the same side, the people who prefer romantic stuff love to spend their time in the mountains.
These personality traits help differentiate whether the individual prefers to go on the beach or mountains during vacation.
Peace Lover or Adventurer
Well, here we can say that it's very difficult to select between the beach or mountains. Both the places are perfect for the adrenaline junkies. But still, if you have a quick comparison between both of these, then mountains are quite peaceful and relaxing compared to the beaches.
People get to see the breath-taking scenic view, which is excellent for activities. However, some persons can enjoy the mountain activities like bungee jumping, hiking, tracking, and many more.
On the same side, beaches offer various water games and adventure activities that seem perfect for beach lovers. Here, the debate becomes tough to decide whether you want to go on the beach or mountains. If you want to relax, then definitely you will love to go to the mountain.
Other Things to Choose while deciding Between Beach or Mountains
If you prefer hiking and trekking, the mountain would be the ideal place to go.
Love vibrant colors and vibrancy, then prefer to go on beaches
Beaches are perfect for the boardwalk and water activities
Mountain is perfect for the silences and to explore the nature
Reasons to Avoid the Beach or the Mountains
Several Reasons to Avoid Beaches
There are a lot of reasons to avoid the beaches during scorching summer days. But the common reason to avoid the beaches is skin tanning—the individual with fair skin complexion and dealing with melanoma need to avoid going on beaches. The person who has skin burnt can also avoid going on beaches during the summers or hot sunny days.
Why Avoid Mountains?
If you have breathing sickness or feel trouble from the cool weather, you must avoid going to the mountain. But if you do not have any trouble and breathing sickness, then choose the mountains over the beach to enjoy a glimpse of nature.
Mountains and Beach Together
If you do not want to compromise by choosing the beach and mountain only, then prefer to have those locations such as Islands, where you can enjoy the scenic view of mountains and livelihood of the beaches. It can be your perfect destination for spending some best moments during vacations.  
Beach and Mountains in the US
The United States is characterized by the presence of many coastal and mountainous places, which makes it difficult to determine which places are worth visiting and enjoy the views of the beach or mountains.
Mountains:
Saranac Lake, État de New York
Places to visit in and around Saranac Lake :
Clear Lake
Cobble Hill Hike
Cross-country skiing Whiteface Landing
Waterfall and Porter Mountain Hike
High Falls Gorge
Asheville, Caroline du Nord
Places to visit in and around Asheville:
Catawba Falls
Shining Rock Wilderness
Black Balsam Knob
Looking Glass Rock
Blue Ridge Parkway
Places to visit in and around Telluride:
Bridal Veil Falls
Bear Creek Falls
Sneffels Highline Trail
Telluride Via Ferrata
Cross Mountain Trail to Lizard Head Peak
Beaches
Places to go in and around Pensacola :
Gulf Islands National Seashore
Fort Walton Beach
Blackwater River State Park
Florida National Scenic Trail
Turkey Creek Park
Wilmington, Caroline du Nord
Places to visit around Wilmington:
Wrightsville Beach
Carolina Beach
Fort Fisher State Recreation Area
Brunswick Nature Park Trails
Bear Island Beach Campsites
Places to visit in Ludington :
Ludington School Forest Bike Trails
Big Sable Point Lighthouse Paddling
Ludington State Park
Pere Marquette River
Nordhouse Dunes Wilderness Area
Places to visit in and around Santa Cruz:
Seabright Beach
Capitola Beach
Berry Creek Falls in Big Basin Redwoods State Park
Wilder Ranch Trails
Shark Fin Cove
Over to You
Beaches and mountains are indulging in nature's beauty on their own. However, it is still very difficult to select either of these options. So, here we end the beautiful debate between the beach vs mountains. This debate will help to choose the perfect destination for holidays in 2021.
If you love to visit Ghana country you can choose between 10 beach resorts in Ghana. In order to enjoy the beauty of the sandy beaches and stunning views